Why Use Custom Software Development Services For Your Business?
Web-based services provide interactive platforms for the users to access various information using different devices like desktops, laptops, and smartphones. Apart from comprehensive websites, custom web applications are also in trend among business owners to invite their customers and serve with necessary and useful information through the web applications.
Lack of time and to avoid comprehensive website visits, users prefer to use a specific web application to meet various requirements as per the needs. Actually, the rise of the use of the internet on portable devices and the requirement of specific applications to run such devices are also increasing the demand for custom web application development among users globally.
Reasons to Choose Custom Software Development
Despite the availability of websites or portals, there is a huge demand for custom web application development. As such applications can be easily used on various platforms like desktop operating systems or mobile operating systems etc. It offers a single platform for different users to accesses anytime from multiple devices at multiple locations with minimum effort.
Fully Customize Functions as per the Requirements
As the name represents, custom software development services provide a fully customized solution to clients. Hence, you can get all the designs, functions, and key features as per your customized requirements and feasibility. This kind of approach helps businesses to promote their business with a unique identity while ensuring the security of the database.
Making Your Database Highly Secured
Another advantage of choosing custom web development is developers make such applications highly secured. Free or open-source web applications are susceptible to external threats and require less effort to be hacked.
Once, such applications are hacked by hackers there is a risk of database pony-trekking, making your data highly venerable to unauthorized access. Your business and your customers can enjoy the risk-free database making your trade more productive.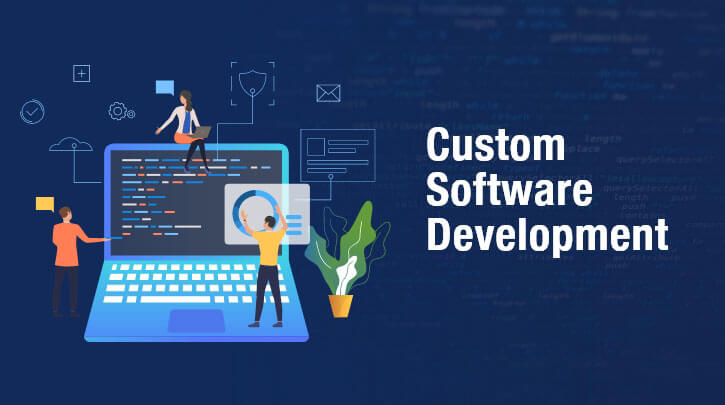 Interactive Platform with User-friendly Interface
Web-based custom applications are developed with the motive to facilitate customers or potential visitors to track their important requests or access essential information or do the basic transactions from various devices. Web-based applications require limited internet data packets and it is compatible and runs smoothly with limited available space on diverse system/devices.
Other Advantages of Custom Web Application
Social media platforms, mail services, and online shopping portals are all the top examples of custom web applications development.
Fully customized and specially designed as per the user's demand and operating systems or browser compatibility. This type of application helps to attract a large group of customers at a very low cost with easy installation and low maintenance.
The demand for custom software development services in India is rising due to changes in the trend of using the internet on multiple devices. The importance of such applications is increasing due to easy accessibility by the end-users including other stakeholders.
Business owners gain popularity and get in touch with their respective customers to serve with better service. Hence, it is very important to organize your custom web application development process with a knowledgeable and experienced company to get a useful application within the budget. CoreBitWeb is offering a custom software development service to all types of business verticals. From small enterprises to big organizations CoreBitWeb has a team of highly skilled and experienced software developers to create tailored applications at less cost that will give you the best performance.