What if you could make decisions faster, increase the speed of your workflow by eliminating tedious actions, and reduce errors to more or less zero? Robotic Process Automation – RPA as it's also called has been proven to be one of the best ways to increase business agility, reduce costs and free up time for humans to spend on tasks that require judgments, creativity, or hands-on work. Imagine all the tasks you can delegate to software.
What is Robotic Process Automation (RPA)?
Robotic process automation (RPA) is an exciting new technology that is changing the finance and accounting landscape. RPA automates repetitive and rules-based tasks, freeing up employees to focus on more value-added activities.
This can result in increased efficiency and accuracy, as well as cost savings. RPA is also flexible and scalable, making it suitable for businesses of all sizes. As the use of RPA grows in every business area, it also provides the best-automated solution for finance and accounting.
Why use Robotic Process Automation in Finance?
Robotic Process Automation, or RPA, is quickly becoming a popular option for those in the finance and accounting industries. Here are just a few reasons why RPA is required in finance and accounting.
Accuracy with better Efficiency: When robots are handling the monotonous and repetitive tasks that are often found in finance and accounting, it frees up employees to focus on more value-added activities. This leads to increased accuracy and efficiency overall.
Improved Decision Making: With RPA, employees can access data and analytics faster and more easily. This allows for better decision-making when it comes to financial planning and strategy.
Cost-Effective Business Growth: Perhaps one of the most appealing aspects of RPA is its cost-saving potential. When robots are taking on certain tasks, it can help to lower the overall costs associated with running a business helping to operate better profit margins.
RPA is changing the entire finance and accounting process with automation everywhere for the better by increasing accuracy and efficiency, improving decision making, and lowering costs of the company.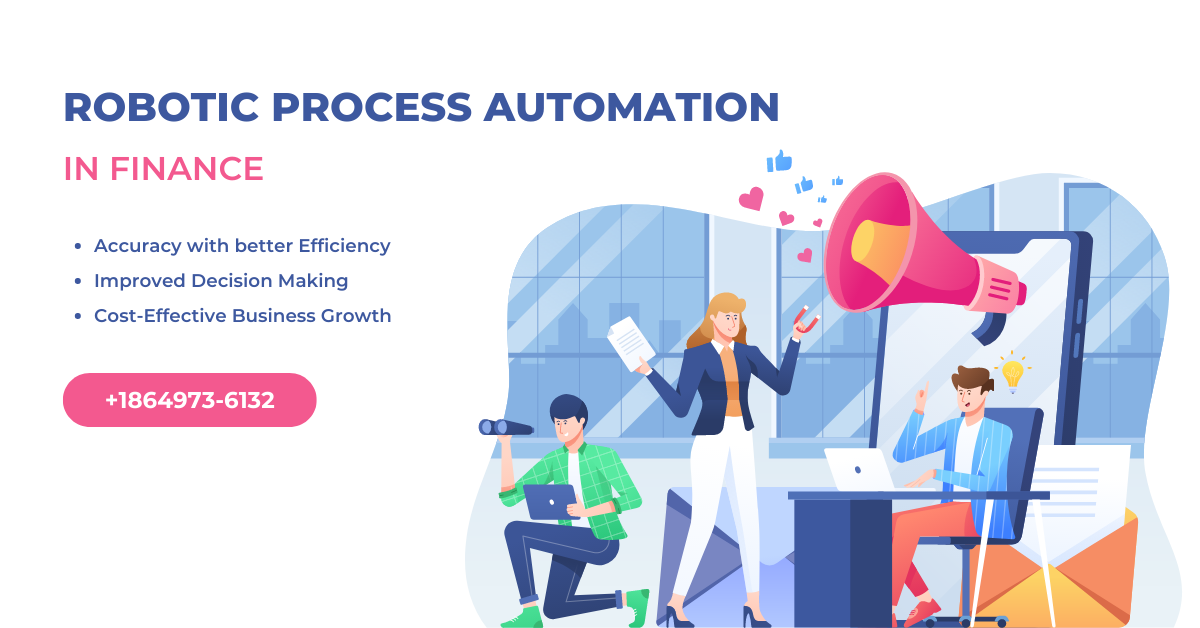 Also Read: Why Do We Need Robotic Process Automation: Benefits of RPA in Business
How Does an RPA Project Work?
Since the early 2000s, various companies have been trying to automate different business processes using software that can mimic human actions. Many of these projects have failed to live up to their promise, but a new technology called Robotic Process Automation (RPA) is beginning to change that.
RPA is a type of AI-based software that can be programmed to automatically carry out repetitive tasks. This is different from traditional automation technologies, which require significant upfront investment and can be difficult to change or scale. RPA is much more flexible and can be easily adapted as business needs change with the capability to learn and improve performance itself.
RPA in finance and accounting has the potential to achieve many daily tasks with accuracy. For example, RPA could be used to automatically generate invoices or reconcile accounts. It could also be used to help prepare financial reports or tax returns. The possibilities are endless, and RPA is already starting to revolutionize the way finance and accounting departments operate.
Key Advantages of Robotic Process Automation
Robotic Process Automation is becoming increasingly popular in a range of industries, including finance and accounting. RPA offers some key advantages that are helping to transform these industries.
One of the leading advantages of RPA is its ability to automate the tasks that are usually performed manually by employees repetitively takes lots of time. This helps the employees utilize their free time in focusing on more value-added activities like taking part in decision-making or problem-solving meetings. RPA can also help to improve accuracy and consistency, as well as reduce processing times helping accounts & finance departments to prepare financial reports quickly.
Another advantage of RPA is its flexibility. Unlike traditional automation solutions, RPA can be quickly deployed and configured to meet changing business needs. This makes it an ideal solution for businesses that are constantly evolving and need to be able to adapt quickly.
Finally, RPA is also relatively inexpensive compared to other automation options. This makes it a more attractive option for businesses of all sizes that are looking to improve their efficiency and productivity while investing in an affordable tool or software suitable for their business.
Training Your Accountants for the Future
As the world of work continues to change, so too must the skillsets of those who work in finance and accounting. With the rise of Robotic Process Automation (RPA), many tasks that were once performed by human workers are now being carried out by software robots. This shift is requiring accountants to adapt their skillsets to meet the needs of the new digital workplace.
The good news is that RPA is creating new opportunities for accountants. By automating routine tasks, RPA frees up human workers to focus on more strategic and value-added activities. For instance, rather than spending time on data entry, accountants can now use RPA to automate this task, allowing them to focus on analyzing data and providing insights that can help drive business decisions.
To meet the challenges posed by RPA, accountants must receive training that covers not only the technical aspects of RPA but also its potential impact on finance and accounting processes. With the right training, accountants can not only become adept at using RPA but also position themselves as leaders in their organizations who can help shape the future of work.
Robotics Process Automation Companies like CoreBitWeb is providing a highly intelligent RPA solution to a wide range of industries. Its RPA is easy to deploy and highly accurate while performing various tasks. The data is also fully secured and safe from unauthorized use, making the RPA developed by CoreBitWeb more reliable and affordable for all sizes of industries and companies.